Find new perspectives, answers, solutions, ideas!
Take a step out of your to do lists and let us support you for 45 minutes!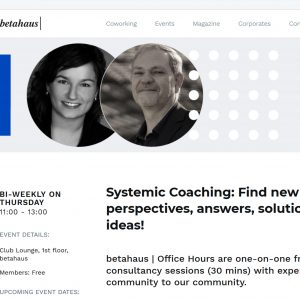 Upcoming dates (bi-weekly on Thursday)
January 20, 2022, 11-11:45 a.m.
February 3, 2022, 11-11:45 a.m.
You have so much work that you even don't know where to start?
You want to bring something into a sharper focus?
You're having a hard time making a decision?
You need someone to share your concerns, thoughts or questions – a sparring partner to reflect your current situation?
You just want to get to know systemic coaching?
Working with a systemic coach can help you reflect the (social) systems you are working and living in and your own positioning within these systems. No matter if it's concerning your business partners, clients, colleagues, family or friends: Your coach won't tell you what to do but rather support you with finding new perspectives, making decisions, solving problems, answering questions and tapping your full potential.
It is up to you to choose the question, topic or problem you would like to work on. We will help you to get a deeper understanding of your current situation and to identify your next possible steps – in an appreciative, trusting atmosphere. We coach in German or English.
About Event Holders
Melanie and Roland are certified Systemic Coaches (artop – Institute at the Humboldt Universität zu Berlin) and Associate Coaches (DBVC) of Germany's leading Association of Executive Coaching (www.dbvc.de). They are working as Coaches since 2016.
Melanie has long-term management experience in Public Relations, Corporate Communications, Public Affairs and Journalism (more information: www.breunlein.de/ueber-mich/).
Roland will share his long-term and profound experience as HR-Director and Head of People's Development (more information: www.frey-coaching.berlin/business-coach/).
Important Information
To secure your spot please register in advance by emailing the coach you would like to work with (Melanie: coaching@breunlein.de, Roland: info@frey-coaching.berlin). In your email please indicate which time slot you would like on the day.
This is a 45 minutes online one-on-one session. One-on-two sessions (90 minutes) are possible by prior arrangement.
Only one session per person – if you would like to continue working with your coach, this will be on individual agreement.
If you need to cancel, please have the courtesy to email your coach 24 hours before session, if possible.